Wine bar & Champagne Lounge Porto Rafael
In the original Main Square that is the heart of our seaside village Porto Rafael, there is a new fun point for the locals and for those who venture to this charming location.
It is a wonderful example ofinterior design designed by Susanna Colleoni at Atelier Labenoi for the new Wine bar & Champagne Lounge, SOLAZ. The turquoise colours of Spargi and Budelli islands on the floor and the counter are the same as the sea that never ceases to enchant with its unexpected nuances.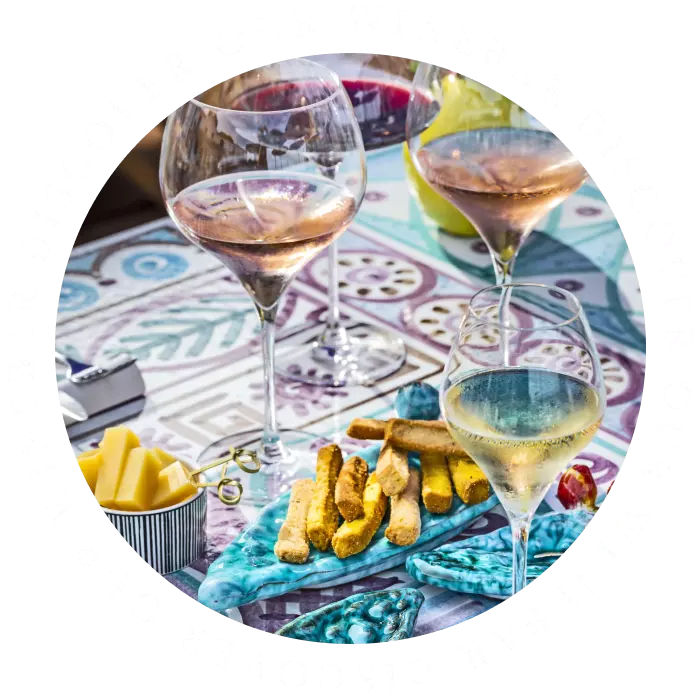 ...a new place
to meet
The Wine bar & Champagne Lounge is a space designed to allow yourself a break to have fun.
A cool place to unwind after a day of sea and sun.
Here you can enjoy a cocktail or a glass of wine and moments of pure relaxation, immersed in a sophisticated and elegant environment where the intimate and welcoming atmosphere will make you feel right at home.
In the evening surprising cocktails are prepared by professional bartenders and famous mixologists who pay attention to quality ingredients and alternate throughout the season.
The Wine bar & Champagne Lounge is another example of conviviality and sophistication that adds to the philosophy of Porto Rafael. A new meeting place for those who love to enjoy life in its simplicity, but with class.